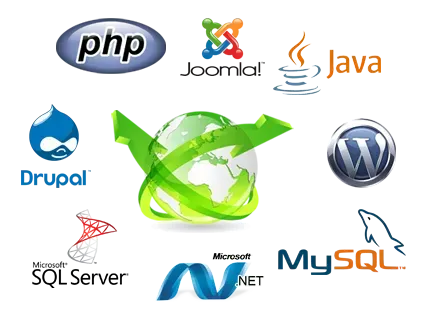 DESSS develop custom web applications that require sophisticated algorithms or rely heavily on data and have experience working with a diverse range of web platforms, languages, and tools including:
Ajax

Angualr.js

Apache

ASP.net

C#

CSS

Drupal

Git

HTML

JavaScript

Joomla

Jquery

Linux

Magento

MSSQL Server

MySQL

Node.js

Oracle

PHP

Python

R

Responsive Web design

SAP HANA

Shopify

WordPress

Zen Cart
We design portal and web app development for:
Client-facing Websites

Payment processing

Internal Websites

Intranet Websites

Help Desk

CRM

Marine Care

Healthcare and Hospital Management
What is most important to you for building the website? We are a highly-skilled team of web designers, developers, ecommerce architect, expert content writers, and online marketing guru's, all with years of experience at growing businesses.
Custom Portal & Application Development
Custom Portal & Application Development was an extremely lengthy and expensive process.
Drupal a free and open source content management framework written in PHP and distributed under the GNU General Public License, provides a back-end framework for at least 2.2% of all Web sites worldwide – ranging from personal blogs to corporate, political, and government sites. Systems also use Drupal for knowledge management and business collaboration. Drupal is developed using agile methodologies and allowing customers to provide feedback and make necessary improvements along the way, to make sure that your custom software meets the scope of work.
Custom web applications and portals development are almost always better off being custom developed. Find out how we approach these types of projects.
Portals and Web Apps
Web applications are also called Applications. There is no value to building a SaaS platform on top of something off-the-shelf because the software that would be provided isn't unusual at all.
Third-party integration
DESSS experts working with third-party applications/tools using their API could save tons of time. We have the experience to determine which technologies/third party applications will be a most effective solution for our customers. We do the below third-party integrations for clients.
Salesforce

ZohoCRM

Concur

Authorize.net

UPS

FedEx

USPS

PayPal

Stripe

Square
Why should you choose DESSS, the Web Development Company?
We are experts at developing websites that will give a compelling global web presence.

We are committed and very passionate about what we do.

We develop websites that are SEO friendly so that your site ranks first in Google rankings.

We offer 24/7 customer care.
We will make your online business successful.
If you are in need of our Web Design and Development Services, call us @ (713) 589-6496